Hotel Atalaya park ****
Surrounded by tropical gardens, Atalaya Park is a 4 star hotel situated directly on the beachfront between Marbella and Estepona. Approximately 45 mins drive from Malaga Airport this spacious hotel offers a wide range of sporting activities such as golf, tennis, table tennis, beach volleyball, mini golf besides its own netball court. What's more the hotel has a large gym, sauna and steam room accompanied by both indoor and outdoor pools. The hotel was refurbished in 2018.
Training Facilities
The hotel features its own outdoor rubber netball court so no bus transfer or long walk is needed. After a tough training session you will be able to jump in one of the hotels pools or take a dip in the sea. In case of bad weather we can also arrange indoor training at a close by sports hall.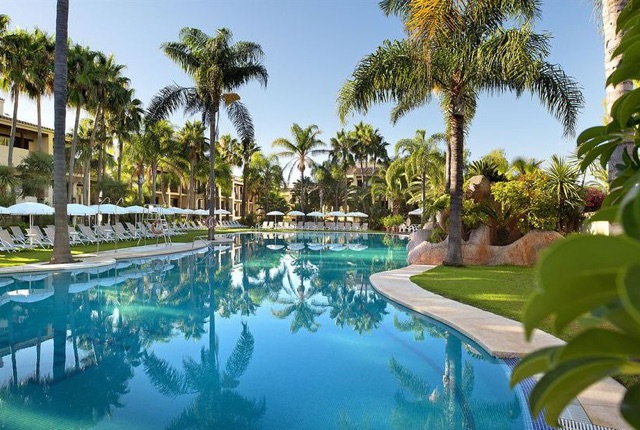 Included in package:
Airport shuttle on arrival and departure day
Accommodation with full or half board
On-site camp coordinator
Use of court twice per day
Friendly matches
Optional:
Room upgrades
Laundry service
Massage
Physio
Team building activities
"The hotel has vast experience in dealing with sports groups. There will not be any need to leave the premises as 3 meals per day are included in this package, as well as the training ground which you can use more or less when you feel like it. Should you wish to go out at night though, Puerto Banus is a mere 10mins away by bus or taxi."
Practical Information
Málaga Airport is the 4th largest airport in Spain and is served by many low-cost airlines. This makes traveling to Marbella within reach of many teams and athletes.
Nearest airport is Málaga Airport (70 km).
Outstanding training facilities.
Picturesque town of Marbella with countless possible activities.