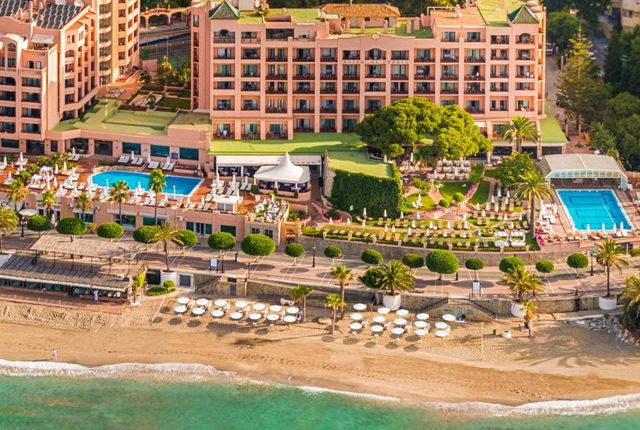 Hotel Fuerte Marbella ****
Hotel Fuerte Marbella is a luxurious 4-star hotel situated right on the beach, along the "Paseo Maritimo" and near Marbella's historic quarter. It therefore offers a variety of leisure choices, from beach pleasures to plenty of shopping and sightseeing.
The hotel rooms are all spacious and elegantly decorated, offering either garden view or sea view with a pleasant balcony. The international breakfast buffet will cater for all needs and preferences prior to our training sessions.
There are two swimming pools, one outdoor pool and one heated covered pool. The hotel welcomes families and entertains children in its child-oriented Forti Club. Finally, just a few metres from the hotel, you will have access to the Spa & Beauty Miramar, one of the most modern Spa facilities in Marbella.
Training Facilities
We have access to indoor pools which can be used for technique sessions and swim stroke filming. Open water swimming will be done in the sea or in the nearby lake. Marbella is also great for cycling and running; it offers many beautiful routes we can include in our triathlon camps:
Endurance rides on parts of "La Vuelta de España"
Magnificent trail runs through the mountains
A time trail ascending an Alpe d'Huez type of climb
Running along the famous Paseo Maritimo
To balance our training we can include yoga, strength and stretching sessions. There is a fully equipped gym close to the hotel and the beach is just perfect for an early morning yoga session or a relaxed stretch after a hard ride or run.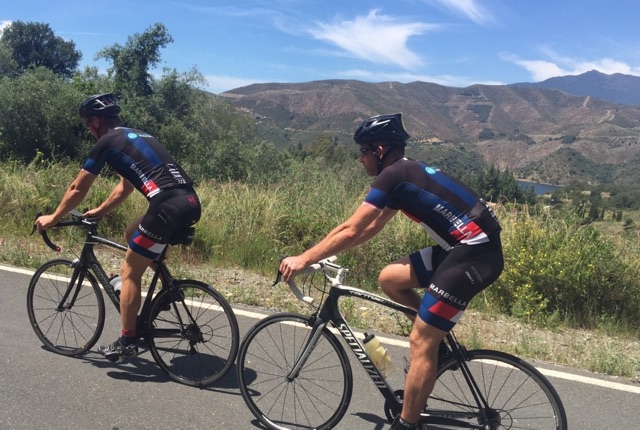 "Marbella is a great location for both training and leisure. Make your training camp a family holiday; while you train hard, your family will surely have a great time too! This triathlon camp is specifically suitable for beginners and intermediate triathletes as facilities also cater for those that seek to improve technique, knowledge and motivation to reach new training and race goals."
Practical Information
Málaga Airport is the 4th largest airport in Spain and is served by many low-cost airlines. This makes traveling to Marbella within reach of many teams and athletes.
Nearest airport is Málaga Airport (50 km).
Puerto Banús, San Pedro de Alcántara and Benahavís are all within a 10 minutes drive.
Combine a camp with a race: there are many triathlons in Andalucia!