Gran Hotel Benahavís ****
The hotel is located in the charming mountain village of Benahavís, a 15 minute drive from Marbella. With its cortijo-style architecture, it offers amazing views, beautifully decorated rooms, an impressive SPA and a picturesque, Andalusian patio to enjoy your meals and evening drinks. 
The village of Benahavis is only 5 minutes walk away, has many bars and restaurants and is regarded as the culinary capital of the Costa del Sol.
Next to the hotel you will find a sports complex with outdoor pool, bar, golf tee, grass and astro turf football pitches,a gym and paddle tennis courts. In and around the hotel there are many excellent places to practice yoga or to relax. There is an abundance of amazing running and hiking trails.
Trails and beaches!
In and around Benahavís and Marbella there are many great places for running. One can run or hike on endless trails, from easy to rather technical; all waiting to be explored. Expect to be alone with nature, in complete tranquility after only 5 minutes on the trails. Our coaches will guide you to the nicest trails with the best views over the Sierras and coastline!
The beach is wonderful for those early morning runs while the Paseo Maritime stretches from San Pedro to Marbella, allowing for long runs on a flat surface. We also have access to a 400m running track for interval sessions.
To balance our running sessions and to allow for the best possible recovery, we could also include yoga, strength and stretching sessions. There is a fully equipped gym close to the hotel and the hotel surroundings are just perfect for those early morning yoga sessions or a relaxed stretch after a hard training session.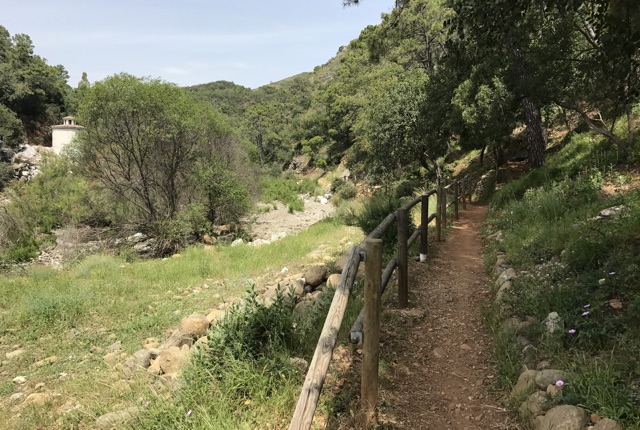 "Benahavís is a hidden pearl on the Costa del Sol. It is surrounded by impressive nature, mountain views and tranquility. It is the perfect spot for those who love the outdoors and sports."
Practical Information
Málaga Airport is the 4th largest airport in Spain and is served by many low-cost airlines. This makes traveling to Marbella and Benahavís very economical.
Nearest airport is Málaga Airport (65 km).
Marbella, Puerto Banús, Estepona and San Pedro de Alcántara are all within a 15 minutes drive.
Combine camp with a race: there is abundance of races in Andalucia!